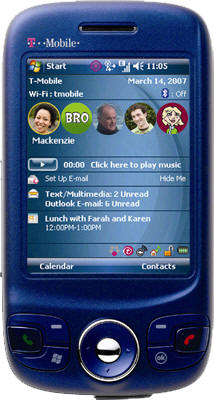 All iPhone hype aside, smart phones are definitely the future, having already all but obliterated the PDA category. Just watch how the younger generation uses a cell phone, sending text messages, responding to e-mail, taking pictures at the drop of a hat. So the more a phone can do, the better, which is why T-Mobile's Wing is a promising option for those who want to, well, do more on a phone.
The Wing has a touch screen that you can tap with your finger or with a pop-out stylus. It also slides open to reveal a full miniature keyboard; perfect for taking notes, changing calendar items, writing messages, etc. When you switch from the touch screen to the keyboard, the image also automatically flips around to the proper orientation. The phone also works on Wi-Fi networks (yes, that means you can place free Skype calls on it) and includes a micro SD memory card slot on the side so you can keep expanding its memory. It also has Bluetooth, but not the latest streaming stereo version.
Also of note, the Wing uses Microsoft's Windows Mobile 6 software, making it a solid business tool for those already using Outlook on the corporate network. It supports synchronized calendar and contact information, for example, and will automatically send all incoming e-mail to the phone. It also supports browsing standard Web pages, which means you also see all the HTML graphics in incoming e-mail as well. And you can read and edit all Word, Excel, and PowerPoint files on the phone. There's even a PDF reader.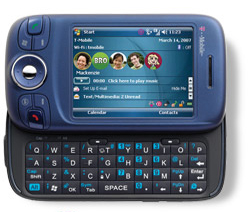 Since every phone is going to be compared to the iPhone, we'll submit the de rigueur graf as well. The Wing is shorter than an iPhone (well, isn't every cell phone shorter than an iPhone?) but it's much thicker and heavier, weighing in at 6 ounces (most full-featured phones are around 4.5 ounces, and many traditional cell phones weigh much less). Like the iPhone, it also uses the slower cellular data network, so browsing the Web is about as tardy as the experience on an iPhone.
Bottom Line: A steady business phone for Windows users.
J-Q.com
Digg this
Post page to del.icio.us