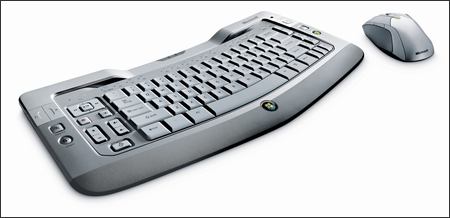 For years, tech pundits pontificated about the difference between the "leaning forward" and "leaning back" experience. It was supposed to characterize the difference between working at a computer and sitting back on a couch watching TV. But it was distinction without a difference. After all, who doesn't lean back at their desk?
Unfortunately, those of us who like to kick back at our desks still had to lean forward to reach the mouse….until now. Microsoft is putting the finishing touches on its slim, silver Wireless Entertainment Desktop 8000 rechargeable keyboard and mouse, and we've been testing a pre-release version for about a week.
The Bluetooth keyboard is expected out in mid-September and was originally designed to be used with Media Center computers (which are supposed to be in the living room), but it's a slick keyboard for those of us who like to lean back at our desks because (you guessed it) it has a built-in touch pad for mousing around. Microsoft calls it a "navigation pad" because the touch pad isn't precise enough for graphics designers, but it's perfect for simply moving the cursor across the screen, without having to lean forward to grab the mouse.
The wireless keyboard has a raft of other enticing features, such as a proximity sensor that lights up the keyboard when your hand approaches, dedicated buttons for Windows Vista functions, and four additional USB ports that are built into the recharging stand. Of course, the 8000 isn't perfect.
Touch typists will find the 8000 requires some adjustment. The keys are not quite as responsive as those on a conventional keyboard and the finger position is shifted slightly off center toward the right (to accommodate a set of media buttons on the left for playing videos and music). In addition, the delete key is awkwardly placed alongside of, rather down and to the right of, the backspace key.
Oh, and there's the price: $299.95 list. J-Q.com